If you have any questions of heat pumps, don't hesitate to contact us.

INVER-HEAT Technology
STORY BEHIND INVER HEAT

Over the past ten years, pool heat pumps have been more and more popular in the market. However, the heat pump technology always kept similar and there was no breakthrough. This is a very big limit to improve the swimming experience. In order to solve this problem, Misouri founded by an expert team with more than 18 years professional heat pump experience brought out the revolutionary technology "INVER HEAT" to the market in 2020, which take the pool heat pump technology to a totally new level.
WHAT IS INVER HEAT?

INVER HEAT is the unique technology developed by Misouri, which are perfectly combined with INVER TEMP, INVER TOUCH and INVER SMART. INVER HEAT technology make your pool heating worry and hassle-free, providing customers with a perfect swimming experience all year long.
INVER TEMP is the technology specific to Misouri pool heat pumps. Unlike traditional heat pumps, INVER TEMP makes the pool heat pumps to another level. Firstly, the units combine advanced components such as the DC inverter compressors, DC brushless fan motor and our own desiged control system. The frequency of the heat pumps can be adjusted very precisely and automatically based on the working condition to achieve an amazing low energy usage and superior silence. Secondly, the heat pumps can work intelligently with the different function such as Boost/Smart/Eco, preventing any possible energy waste. Thirdly, heat pumps are specially designed to fit both of the R32&R410A, which will be very convenient for the markets.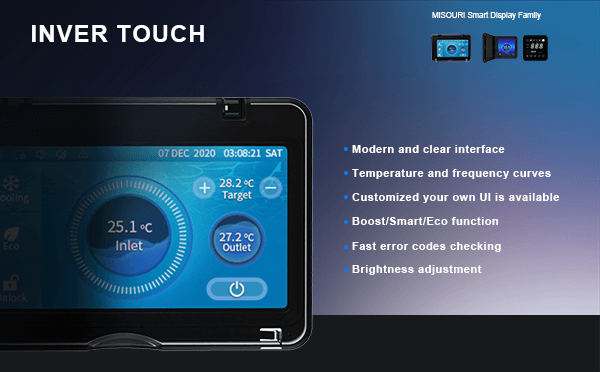 INVER TOUCH is one of the key parts of the INVER HEAT which enable customers to choose the premium, middle or entry level dispalys according to their requests. Unlike other normal displays, INVER TOUCH displays offer very clear interface so that you can easily achieve the function you need. The operation has never been so easy until INVER TOUCH occured in this industry.
If you ask what is the biggest breakthrough in pool heat pump industry over the past ten years, it will must be the INVER SMART. INVER SMART is not just the smart app control but the whole smart control system. INVER SMART offers different options of the remote control such as WIFI or Buletooth. With our smart elctronic control system and smart server in Europe, it is very easy for you to deal with the device management, project management and customer management. INVER SMART will be your best choice of the smart pool heating.